On my walk this morning I saw three women and four men, in four different jobs.
One woman was about 23 and a home health aide walking one of my neighbors around the condo grounds. She was white, attractive, pleasant and cheerful and they were chatting together. Her median pay scale (on the internet, because I didn't ask her) is about $10.00/hour. If she works for an agency, the family will probably pay more than double that, but she'll have decent benefits. If she's a private contractor, she'll make more, but will have to contribute her own Social Security. Not even a high school degree is required. I often see foreign women with limited language skills in these positions. It was not the case with this young woman.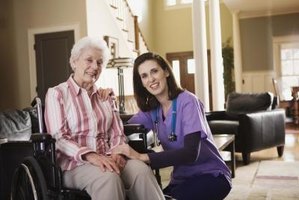 As I continued, I saw two men with the Columbus Public Utilities department--both had uniforms, tools, and white trucks. They were white and probably under 40. They were repairing a piece of equipment in a large box near the road. I'm guessing they do some kind of electrical maintenance. I think the box probably controls power in the whole neighborhood. If they were supervisory, they'd need a bachelor's degree and about 10 years experience. Salaries were hard to determine, since I don't have a job title and am guessing, but the median could be $154,000.
Two women were in the playground of the near by church with pre-schoolers. I don't know if they were teachers or aides, but I'm going to call them
pre-school teachers
. They were white and probably early 30s. They were actively involved in the children's activities and very watchful. They weren't sitting and chatting or checking their phones. Their median salary is about $12.06/hour ($28,570) or about 50% of an elementary school teacher ($56,000), and less than a fitness instructor ($39,410) at a private club or gym. I think the pre-school teachers need a bachelor's degree or would be working on one, but most elementary teachers around here have a master's degree. Also the teachers work 9-10 months with a number of days off during the school year, but the Fitness instructor works 12. They would probably all have benefits, at least health, vacation and sick leave. The pre-school teacher may also get free day care for her own children, or a discount. The fitness instructor may have a family discount to use the gym. The elementary teacher gets play ground duty and short lunches.
When returning home I noticed two trucks going a bit over the speed limit driven by two young black men for the company, 1-800-Got Junk. These days it's called "environmental diversion." I think they may have been late teens or early 20s. I actually found this company on the internet, and various job titles. A truck driver makes $11.36 or ($18-$22,000 a year). I think they had full benefits. There were various job levels, and room for advancement, and no education (for truck driver) was required. Brian Scudamore, a high school drop-out, is the founder and CEO of 1-800-Got Junk, and you can check him out for a very interesting career story. He's founded several companies, but this one does about $152 - $170 million a year. He got this idea when he was 18 and working at McDonald's. (Company is now franchised, so I don't know who owns the one in Columbus.)
The next time you see an article about the wage gap or gender gap or race gap in employment, remember, not all jobs are the same, they don't have the same requirements, responsibilities, education, and race or gender probably isn't what has caused the difference. And also think about
Mr. Scudamore.
Anyone could have done what he did, but he rolled up his sleeves and did it.