598 Our wildlife
For several days a doe and fawn frolicked in our back yard in October. They came very close to the house. They are both looking to the west--there are two heads in the photo.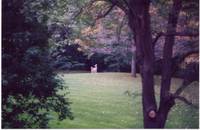 Doe and fawn in our back yard

Twice (April and November) I've blogged about deer on the interstate west of Columbus. Reports are that 201 humans were killed in 2003 as a result of collisions with deer--up 27% from the previous year. Sixty of those deaths were motorcyclists--and they weren't wearing helmets. Seatbelts weren't worn in many of the vehicle accident deaths. In 14 of the 147 accidents involving cars/trucks, the deer struck by one car flew through the windshield of an oncoming car.
Our backyard deer are beautiful, but dangerous on the highways.