Today we've had a record low for this date—both the low and the high temperatures were record lows!  Lake Erie is warmer than the air temperature.
Last night's program was David Cassidy, 1970s teen idol, and lots of his formerly teen fans showed up to fill Hoover Auditorium in Lakeside. In fact, at breakfast this morning I was sitting next to a table of them, analyzing every move plus that of his band and stage helpers. Cassidy rose to fame in the TV show "The Partridge Family," and is the son of two actors, Evelyn Ward and Jack Cassidy.  Shirley Jones, who played his TV mother, was his step-mother. During these shows, like last week's Peter Noone, the rocking grandmas provide a lot of entertainment.  He was recovering from a burn and possibly coming down with the flu so was having some voice problems.  I suspect his shows are usually longer, but he made a good effort, and had an adoring audience.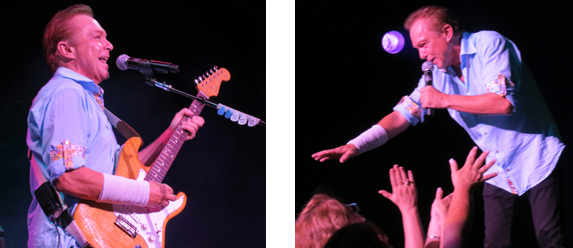 This week's programming looks good.  On Monday and Tuesday the theme is health and medicine. Alzheimers, hospice, updates on vaccines, nutrition, and 60 tips for the caregiver. (Bev: should I take notes?)  Wednesday is something on ombuds, and I don't think I'll attend those, but the morning bird walk at 8 a.m. looks good.  Then Thursday is a Lakeside favorite, Gene Swanger talking about East Asian Culture.  The Lakesiders love him.  The Symphony starts its 50th season this week, and the conductor gave a talk today that I attended. My husband is teaching perspective drawing and painting at the Rhein Center and registered a full class today.